Hey guys!
I'm back with a review of a product, that I bought 2 or 3 months ago. I am fully prepared to tell you my thoughts on it since I played with it for  quite a long time. This product is  widely talked about, there are a lot of different opinions on it and today you will hear mine also! Let's begin on YSL Rouge Lipstick Review & Swatches 🙂
Purchase Info:
YVES SAINT LAURENT ROUGE VOLUPTÉ LIPSTICK in '3' 36$
YOU CAN BUY IT HERE. (opens in a new window)
Description:
An object of desire, this award-winning lipstick is wrapped in a romantic, elegant gold case that exudes luxury. Each signature shade saturates lips in captivating color that's intensely pigmented, and imparts an irresistible glossy shine. The long-lasting, comforting formula is highlighted with a unique Color-shine Complex that leaves lips visibly smoother, plumper and more radiant. Light, silky texture smooths on a veil of satiny, sensual color that's altogether alluring.
Packaging:
The packaging is just gorgeous!!! Love at first sight guaranteed… I think that's what draw me in to buying it the most at first. Feels super luxurious.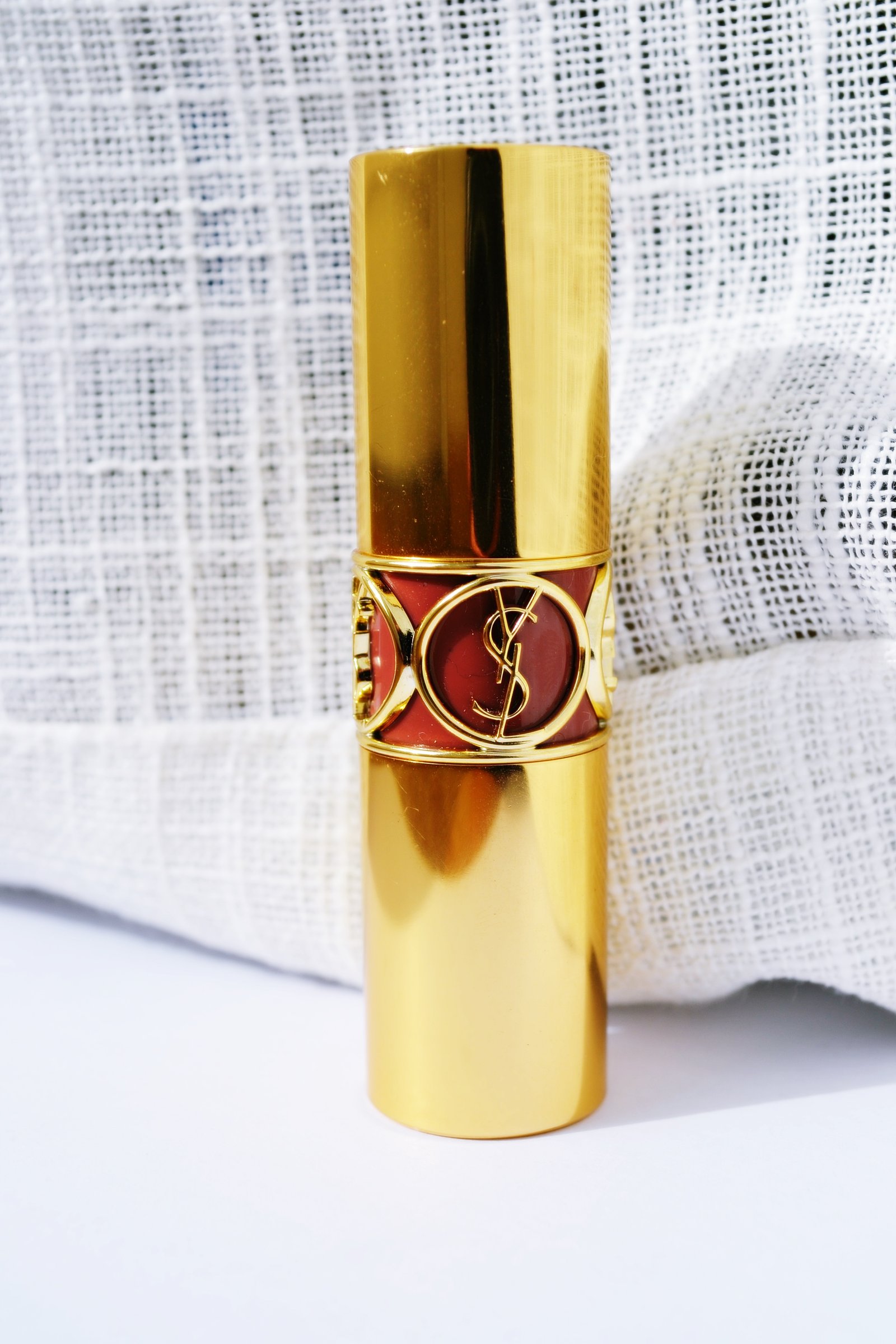 Pros: 1. Amazing golden packaging;
            2. Creamy texture, moisturizes the lips so well;
            3. A very pretty natural color. Perfect for everyday;
           4. Leaves a pretty stain after the color fades;
           5. Taste free.
Cons: 1. The claim to seal the moisture for 8 hours is not true.
           2. The price. It is quite expensive and the colour could stay longer on the lips for such a price.
Verdict:
It's the perfect work color! It lasts about two hours on me without eating or drinking. It doesn't stain. Overall, I'd buy another in a heart beat and recommend all makeup lovers own one of these in their life time! I really like that even without a gloss it has that soft shine that most of the lipsticks don't. With only one swipe you get an opaque coverage on the lips.It is expensive, but it's worth the price because it's great quality and has beautiful packaging. I really like this product and highly recommend it.
HOPE YOU ENJOYED THE POST <3
If you want to get notified when I post something new FOLLOW THIS BLOG. <3