ZOEVA Summer Strobe Spectrum Palette Review
I  bought this palette more than a year ago from my favorite shop on the internet universe BEAUTYBAY.
Even though I am not a big highlighter person, I was very curious to try it out because of its gorgeous shades. After I got it, I started using it and fell in love with it.
Two bright shades work as highlighters and brown colors can also work as contour or an eyeshadow to get that sun-kissed look.
---
Purchase Info: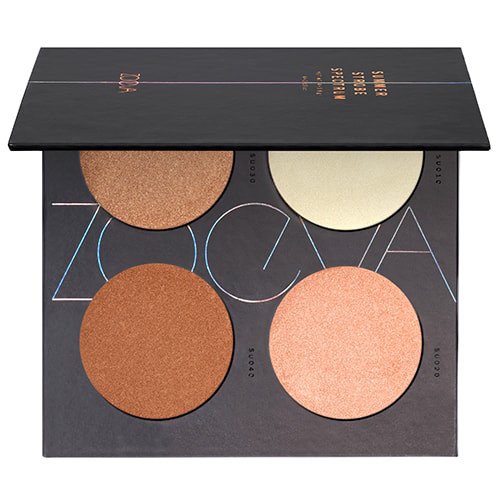 ZOEVA Summer Strobe Spectrum Palette €22.50
YOU CAN BUY IT HERE. (opens in a new window)
---
If you are considering on buying this product, here are some PROS & CONS for you to make the decision easier:
+ The shades are very pigmented. It took one slight swipe for me to get that pigmentation in the picture;
+ Blends effortlessly on the skin;
+ Has very subtle shimmer;
+ Gorgeous shades;
+ Lasts very well;
+ Compact.
My favorite shade would be the pink one just because it's more of an everyday highlight. I reach for the white one when I go out in the evenings.
 – The only thing I don't like is the packaging. Even though the matte top  feels very luxurious, it get's very dirty very quickly and it's not that easy to clean it either. 
– I also don't like how wobbly the palette is, I would prefer metal packaging and not carton.
Overall, I think it is a very good, affordable highlighter palette. Anastasia Beverly Hills palette costs around €45, Makeup Geek Flawless Ever After one €40 and even though they are also amazing, high quality products, it works the same.
Just wanted to note that ZOEVA powders are also enriched with Vitamin E and are 100% Paraben, Mineral Oil, Perfume and Phthalates free.
---
HOPE THIS INFORMATION HELPED
IF YOU HAVE ANY QUESTIONS OR SUGGESTIONS, FEEL FREE TO WRITE A COMMENT OR SEND ME AN EMAIL!