Hey girls! 🙂
I don't know how is the weather in your country, but here in Norway it's 28C  today and the sun is just blazing through the window… For this weather I don't want to wear anything heavy, so the dress is the one and perfect choice for me 🙂
I was looking through various dresses shops trying to find some new dresses and thought that I need to share with you the ones that I really liked. If you will like them too, I'll leave a link where you can get them. 🙂
 Jolly-Well Ivory Lace Swing Dress 

68

$
More dress choices:
I like how unique sleeves of this dress are. They caught my attention first. It looks so flowy and light and dreamy…  I would definitely pair this dress with a thin belt around my waist to give it a bit of form.
Airtex Mesh Skater Dress 105$
More dress choices:
First, this colour is perfect. It just glows… It looks so simple yet so stylish at the same time. It also fits every body type, it hugs your waist and flows from there 🙂
CROSS BACK SIDE SPLIT MAXI DRESS NAVY  70.00$
More dress choices:
With totally chic cross over feature to reverse, luxe side split and print covering, this dress definitely stands out.
FLOATY SWING DRESS WHITE PAISLEY  50.00$
More dress choices:
This dress is definitely something that I would wear everyday. It's so chic and beautiful… I just can't… 😀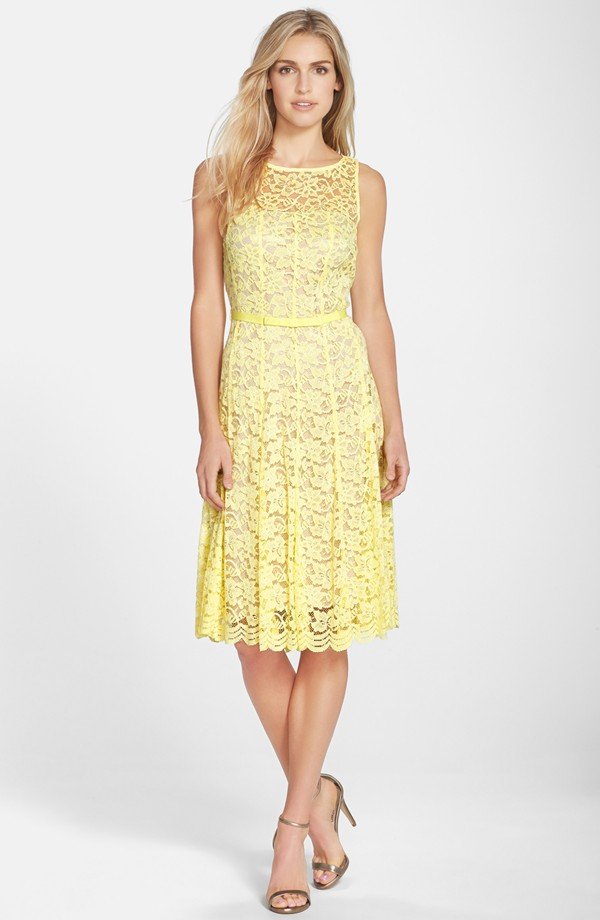 Lace Fit & Flare Dress 88$
More dress choices:
Lace is something that I always adored… It gives such a facny and light look… Love it 🙂 The yellow color gives instant liveliness to your face and stands out from the crowd.
Petite blue shirt dress 49$
More dress choices:
You say simple? I say THAT'S THE POINT! I like this sharp blue colour a lot. I imagine wearing it with some big silver earrings, big black bag, black high heels and you'll be as stylish as Victoria Beckham 🙂
 Oh My Goddess Cut-Out Maxi Dress 30.44$
More dress choices:
Fancy summer night out HERE I COME! This chic number's for goddesses only, ladies. All others need not apply. Stretchy, sleeveless maxi dress features ruched detailing, a surplice skirt, cut-outs on the sides, and a plunging, surplice V-neckline. PRRrrfect!
Broderie-panelled t-shirt dress 90$
More dress choices:
Karen Millen's lace and broderie t-shirt dress has a seventies-inspired feel that's spot on for this season. A lightweight feminine dress with pretty broderie panels, simply team with trainers or heeled sandals for everyday summer chic.
Here is the first round of the  best summer dresses collection. I hope you found some beautiful dresses here:) Which one is your favorite?
See ya 🙂
If you want to get notified when I post something new FOLLOW THIS BLOG. <3